The Holiday Season is Upon Us
Say hello to the festive decorations, exclusive holiday latte flavors, and endless playing of Christmas music. And it's not even Thanksgiving yet. But this time of year is the perfect opportunity for your business to end strong and start off the new year on the right foot.
The holiday season is the time to boost revenue and turn visitors into buyers. The only downside is that your competition knows that too. So, we're here to offer 5 golden things you can do to make your website ready for the holiday season.
1. Make holiday design adjustments
You've probably already seen the holiday sections in stores or change to decorative holiday menus if you're a Starbucks lover. And, your website shouldn't be any different. But, don't worry you don't have to dramatically change the design of your website to look like a winter wonderland.
People get into the holiday spirit. Consider sprucing up your homepage and it can be simple. Just look at Target's website.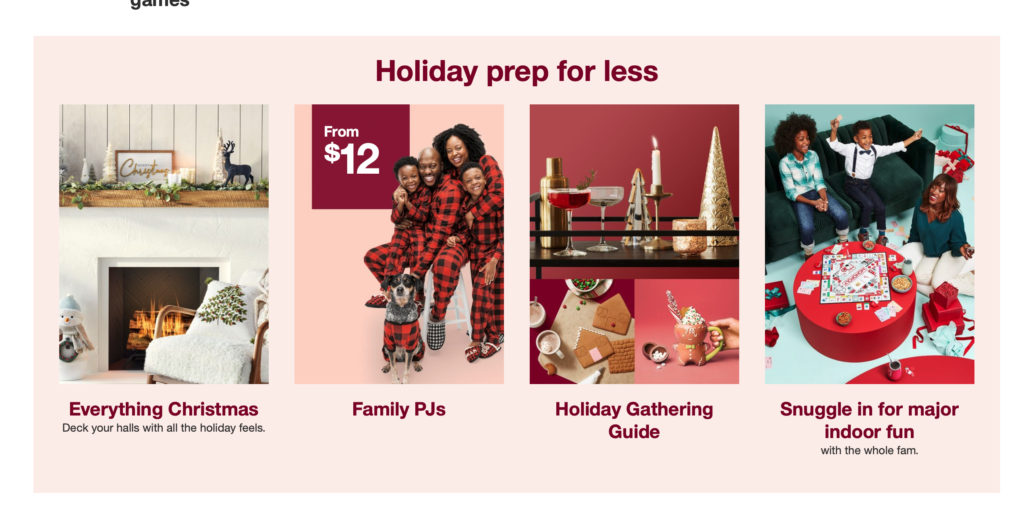 It helps that their logo is already in the holiday color scheme. But just adding the word holiday and other related words can make the difference. It's not over the top but just enough to give off those holiday vibes.
Consider adding holiday imagery and colors, but the word of the wise don't overdo it. You still want the design to be consistent with your brand. Amazon and Starbucks do a great job at this. Amazon is a little more subtle with its wintry design.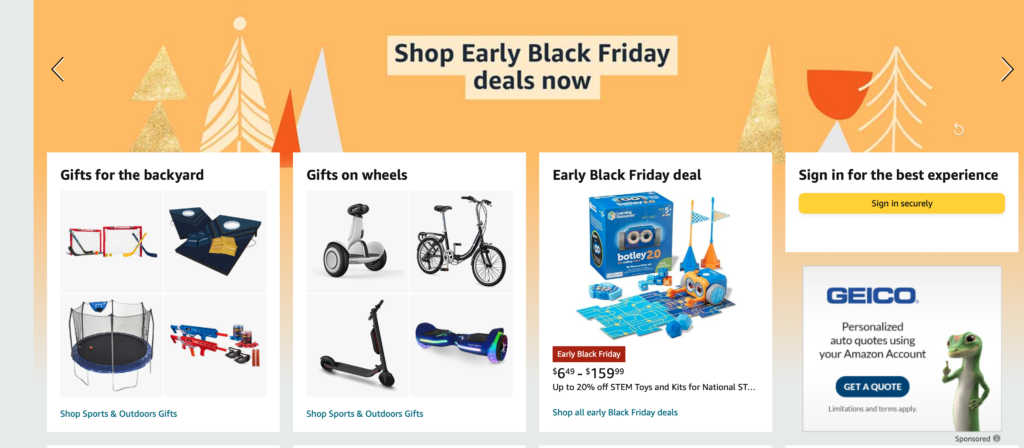 While Starbucks is a little more obvious, but they stay consistent with their brand.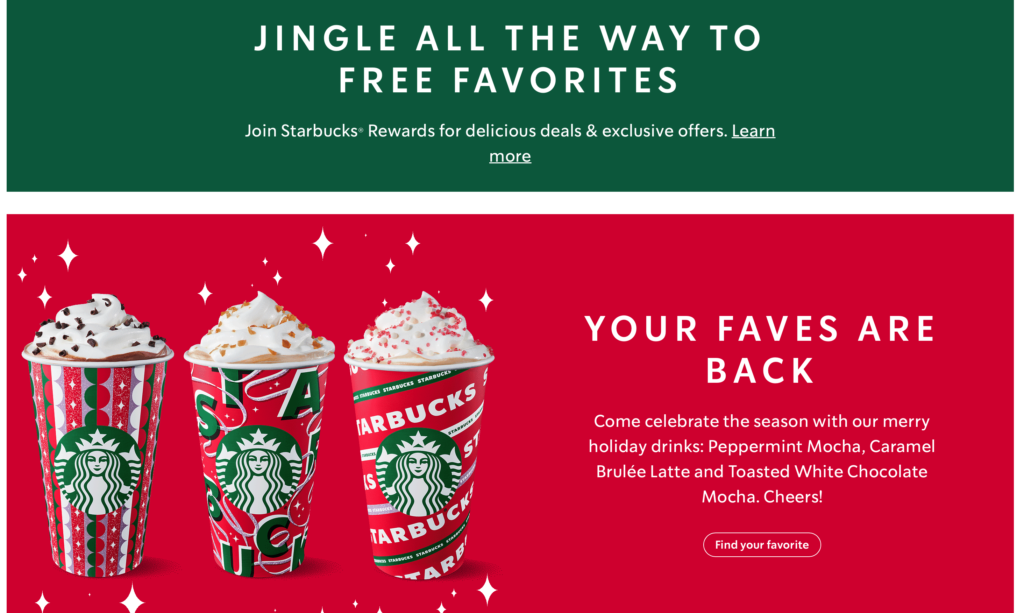 2. Create holiday related content
This goes hand in hand with making holiday design adjustments. Think about including some holiday copy on your homepage, such as finding the perfect holiday gift, unwrapping for the holidays, etc. This is your opportunity to spread some festive feels to your customer. This also adds to enhancing the customer's experience by showing you're making relevant content.
If you have a blog, this is the perfect opportunity to write a holiday-themed post about your product or services. This will help with your ranking and drive more traffic to your site. If you're showcasing products, bring in decorations to reflect the holiday season.
3. Use Relevant Holiday SEO
Make sure you're up to date with all the current keywords this holiday. Some are obvious, like Holiday 2021, holiday shopping, etc. But consider the less obvious ones.
-Black Friday sales
-Cyber Monday sales
-Small Business Saturday sales
Your competition is most likely thinking about this as well. So, don't get left behind by not using relevant holiday SEO. Online shopping is easily accessible for many from the comfort of their own home, so make it easy for them to find you.
4. Optimize for that holiday traffic
If you're following the previous tips, then be prepared for your site to have increased traffic. So, that means making sure your pages are loading quickly, optimizing your images and videos, and streamlining the order process. Your website and/or online store must be prepared for increased traffic. If you are running customer support on your website, make sure you're prepared for an increase in that area since more people are visiting your website. Test your order process and make it as efficient as possible because you don't buyers to leave if the process frustrates them.
5. Run Exclusive Holiday Promotions
Nothing rings better than exclusive holiday sales or products. Nowadays, everyone is looking for the best deal possible, which is incredibly easy to do. That's why this post is coming out now because you need to start advertising your sales right now. But make sure you have a plan in place. Having a holiday countdown is a great way to add urgency for your visitors to purchase your services/products. For Black Friday, offer a flash sale for a limited time. All of this builds anticipation and urgency for your customers.
Conclusion
S0, there are our 5 ways to get your website ready for the holiday season. Luckily, there's still Thanksgiving ahead of us so you still have some time to come up with a plan. We wish you the best of luck as the end of 2021 approaches.